Kentucky Derby week is just around the corner and we're busy finalizing last minute requests from our guests, ensuring they make the most out of their experience at the Kentucky Derby and in Louisville. We've received plenty of inquiries about restaurants in Louisville and we are always happy to help our guests with recommendations.
We're big fans of the food in Louisville and look forward to going back every year to visit our favorite eateries and check out the new additions. This eclectic southern city serves up plenty of BBQ and comfort food, yet also boasts inventive new eateries specializing in seasonal menus. There really is something for everyone in this wonderful dining destination.
With an abundance of incredible restaurants, it can be difficult to narrow down the search. We've handpicked a few of our favorites below to get you started and provide some inspiration. Our pre-travel concierge team is available to all our guests for personalized recommendations and reservations.
Jeff Ruby's
325 W. Main Street
502.584.0102
jeffruby.com/louisville
Quite simply, it's one of the best places to get a steak in Louisville. It's upscale but not stuffy with a cool art deco interior. Go for the steak, stay for the fun atmosphere. It can get a bit loud which may be a good thing, depending on the vibe you're after.
Doc Crow's
127 W. Main Street
502.587.1626
doccrows.com
An easy block away from our Galt House guests, Doc Crow's is a self-described Southern smokehouse and raw bar. It's a casual type of joint with great, flavorful food. It's also got a looooong bourbon list to choose from. We're partial to the shrimp po-boy but also recommend the smokehouse sampler if you love BBQ too much to make a decision.
Proof on Main
702 W. Main Street
502.217.6360
proofonmain.com
Located inside the 21c Museum Hotel, Proof on Main is open for breakfast, brunch/lunch, and dinner. It's worth trying Proof for any (or all) of those meals or even just a drink in the bar. Keeping in sync with the rest of the property, the dishes are thoughtful and creative. If you're feeling adventurous, try the charred octopus, one of the restaurant's signature dishes.
Brendon's Catch 23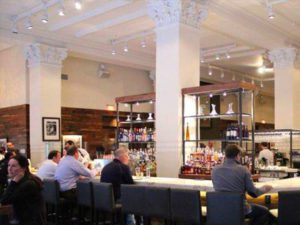 505 S. Fourth Street
502.909.3323
bcatch23.com
Our pre-travel concierges list Brendon's Catch 23 as one of the most-requested Derby restaurant reservations. A fantastic seafood restaurant in downtown Louisville may be a bit unexpected but Brendon's delivers. Bonus: they also have a vegetarian and a gluten-free menu.
Wild Eggs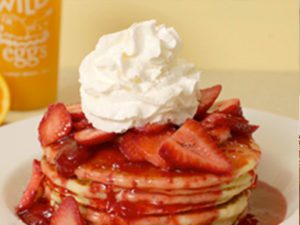 121 S. Floyd Street
502.690.5925
wildeggs.com
A local favorite, this is our pick for a hearty breakfast or brunch. Wild Eggs opens early and the earlier you get there, the better luck you'll have finding a table. It seems to be always packed so be prepared to wait. It's worth it though, the menu is extensive, the food is well prepared and the service is great too. Don't leave without trying the freshly squeezed orange juice.
Mayan Café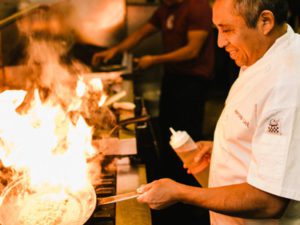 813 E. Market Street
502.566.0651
themayancafe.com
Mayan chef Bruce Ucán creates Mayan-inspired dishes using local, sustainable ingredients at this wonderful NuLu eatery. It's unique, flavorful, and creative. It's a popular place and has limited seating; we highly recommend booking this one in advance. Gluten-free and vegan friendly
610 Magnolia
610 Magnolia Avenue
502.636.0783
610magnolia.com
If you really want to impress someone, bring them here for dinner. The restaurant, run by celebrity chef Edward Lee, offers a 4-course or 6-course tasting menu that can be accompanied with wine or bourbon pairings. It's the perfect place to celebrate a special occasion (or not). Reservations are required.
English Grill
335 W. Broadway Avenue
502.583.1234
brownhotel.com/dining/downtown-louisville-restaurants
The Brown Hotel's English Grill is one of the spots for fine dining in Louisville. It boasts a long list of awards and accolades, all well deserved. We recommend trying the Hot Brown, a Louisville tradition. It's the best open-faced turkey sandwich you'll ever eat. They also have a private room available that would be great for a small corporate event or extended family celebration.
Swizzle
140 N. Fourth Street
502.589.5200
swizzle25.com
Our Galt House guests just need to take the elevator up to the 25th floor to enjoy a unique dining experience. Swizzle is a revolving restaurant that offers some of the best views in the city.
Vincenzo's
150 S. Fifth Street
502.580.1350
vincenzositalianrestaurant.com
Vincenzo's is a traditional upscale Italian restaurant with great food and great service. It's the kind of place you'd go to celebrate an anniversary and then keep going back to over and over because the food is so wonderful.
Best Place for a Cocktail
You won't have trouble finding a drink in Louisville. As we've mentioned, the city loves to party and many bars stay open until 4am (6am during Derby week). For a really cool experience, we suggest heading to Proof Bar in our 21c Museum Hotel. It's classy and vibey with great drinks and great bartenders. Fantastic people watching too!
Best Spot to Grab a Coffee
Louisville is a great destination for coffee lovers. There are lots of great cafés around downtown and throughout the city. For something uniquely Louisvillian, pick up a cup at Sunergos on 5th Street. You'll have to take it to go as there are no seats here but if you love coffee, you won't want to miss out. They've won all kinds of awards to prove their worthiness.
Ready to start planning an amazing sports travel experience to Louisville? Contact one of our Sports Travel Specialists for more information. Be sure to check out our Louisville Travel Guide for more great tips and recommendations about this wonderful destination.