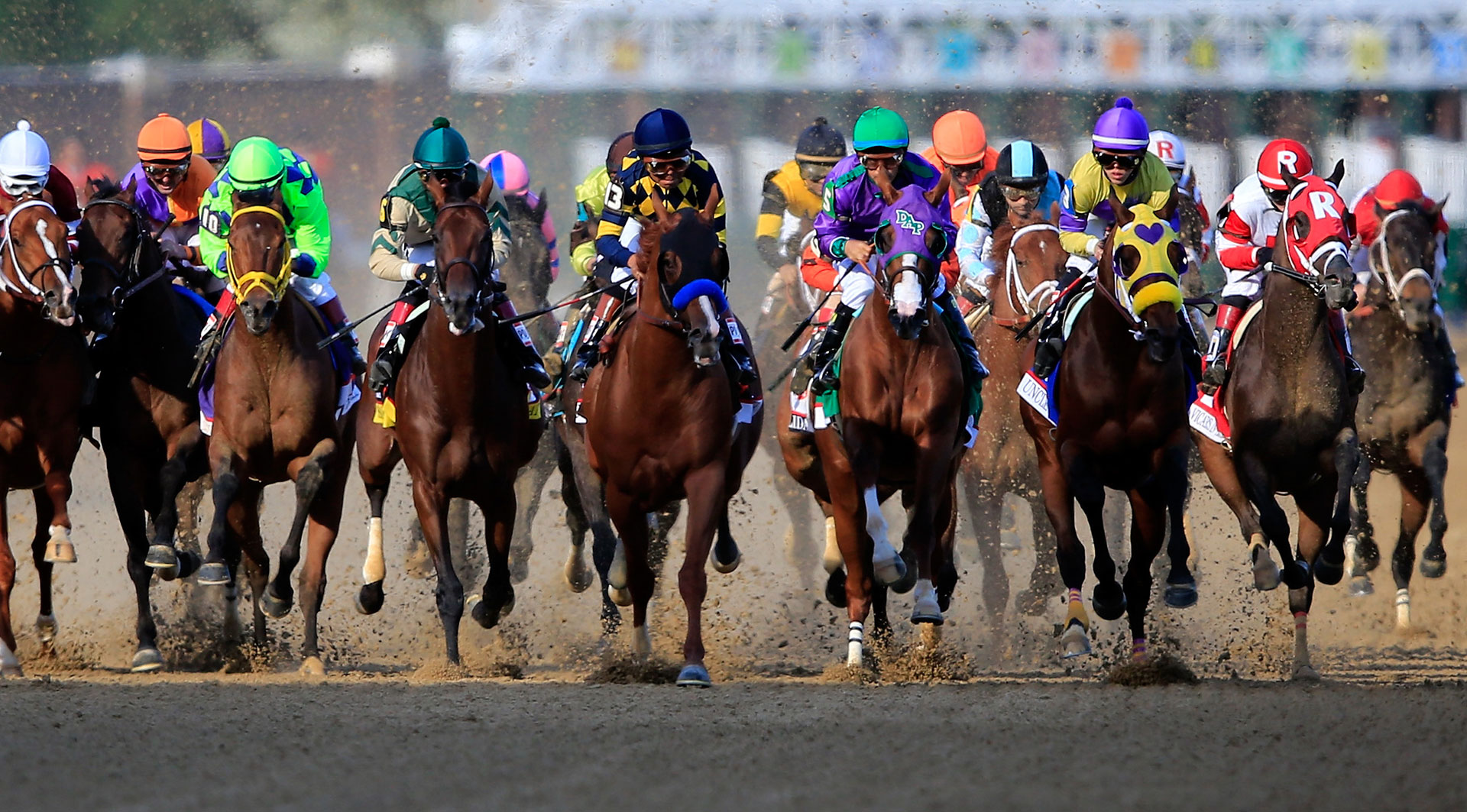 2024 Kentucky Derby Packages
Churchill Downs, Louisville, KY: May 2-5, 2024
Custom VIP 2024 Kentucky Derby Packages
Experience one of America's most beloved sporting events as it celebrates a milestone anniversary. The 2024 Kentucky Derby marks the 150th running of the event and the celebration is sure to be one for the ages. Our Sports Travel Specialists will design a personalized travel package that perfectly matches your preferences with first-class Louisville hotels, your choice of tickets for the Kentucky Derby, options for premium viewing and race hospitality, event day transfers and more, including high touch service throughout. You can further customize your itinerary with tickets to additional events, fascinating tours, and a number of other options to complete your ultimate Derby experience.
Kentucky Derby weekend offers so much more than just the race itself. From the horses to the unique fashions to the celebrity sightings, it really is an experience like no other. The incomparable Derby crowd includes some of the biggest names in sport and entertainment, as everyone who's anyone descends upon the Twin Spires for the famed Run for the Roses.
Be part of the 150th Kentucky Derby and cross this entertaining event off your bucket list. Complete 2024 Kentucky Derby packages available from $5,625 per person (based on double occupancy).
Event at a Glance
2024 Kentucky Derby Package Inclusions:
Reserved seating at the Kentucky Derby (Saturday)
Four days, three nights first class accommodations in Louisville
Transportation passes for roundtrip Churchill Downs transfers
Arrival reception with hors d'oeuvres and cocktails (Thursday, Galt House packages only)
Commemorative gift package
Sunday farewell brunch (Brown Hotel only)
Personalized itinerary
Roadtrips onsite host team
Roadtrips custom ticket holder and lanyard
Expert Pre-Travel Assistance of the Roadtrips At-Your-Service team
All taxes and service charges
Additional options and possibilities:
Reserved seat for the Kentucky Oaks including roundtrip transfers (Friday)
Private sedan roundtrip transfer between hotel and Churchill Downs
Mint Julep Sunset Social tickets (Thursday)
Taste of Derby Gala Dinner (Thursday)
Kentucky Bourbon Trail Tour
Horse Country Tour
Barnstable Brown Gala
Best of Kentucky Tour
Extra nights and/or room upgrades
2024 Kentucky Derby Tickets at Churchill Downs
Your package includes preferred seating to the Kentucky Derby on Saturday. Tickets to the Kentucky Oaks, which occurs on Friday, are optional. An important part of the Derby experience to consider is where you'll be sitting. With Grandstand seating you'll be provided with a view of the action as the horses round the final turn, speed past your position and cross the finish line. Clubhouse seating brings you closer to the action and allows you to enjoy a slightly more prestigious atmosphere, and up above, from Millionaires Row, you'll be rubbing elbows with the who's who and enjoying the race from a luxurious, climate-controlled environment. Higher seats are generally regarded as superior as they provide a better perspective of the race and allow you to see the action on the back stretch of the race course. The higher the seats the better!
Your tickets will be located in your choice of the following seating categories
1st Floor Grandstand (124-128 / Not Covered)
1st Floor Clubhouse (114-117 / Rows A-F / Not Covered)
1st Floor Clubhouse (114-117 / Rows G-Up / Covered)
2nd Floor Grandstand (224-228 / Rows A-J / Not Covered)
2nd Floor Grandstand (224-228 / Rows K-Up / Covered)
2nd Floor Clubhouse (218-219 / Rows A-B / Not Covered)
2nd Floor Clubhouse (218-219 / Rows C-Up / Covered)
3rd Floor Grandstand (322-326 / Rows A-C / Not Covered)
3rd Floor Grandstand (322-326 / Rows D-Up / Covered)
3rd Floor Clubhouse (313-315 / 318-321 / Rows A-C / Not Covered)
3rd Floor Clubhouse (313-315 / 318-321 / Rows D-Up / Covered)
3rd Floor Clubhouse Finish Line (316-317 / Rows A-C / Not Covered)
3rd Floor Clubhouse Finish Line (316-317 / Rows D-Up / Covered)
Homestretch Club (Trackside Lounge) Includes Oaks
Homestretch Club (Club Seating) Includes Oaks
Homestretch Club (Club Dining Row B) Includes Oaks
Homestretch Club (Club Dining Row A) Includes Oaks
Millionaires Row (4th Floor / Includes Oaks)
Stakes Room (4th Floor / Includes Oaks)
Premium Kentucky Derby Viewing Options
Want to take your Kentucky Derby experience to a whole new level? Then you'll want to check out our premium viewing options below.
Millionaires Row
Located on the 4th Floor, the prestigious Millionaires Row offers premium indoor dining room seating (tables of 8) that offers fantastic views of the full track including the finish line. This full service option also includes a gourmet buffet, private wagering stations and CCTV coverage.
Stakes Room
With spectacular views of the track, the paddock, and the famous Twin Spires, the Stakes Room offers premium indoor dining room seating in tables of four, six or eight. Its extensive amenity list includes a premium option bar, gourmet buffet, private wagering stations, CCTV coverage and celebrity appearances.
Homestretch Club
This hospitality experience provides a luxe contemporary atmosphere located in the homestretch of Churchill Downs. The Homestretch Club is an ideal place to retreat to between races, with a variety of upscale seating and dining options, available for groups of 2 to 12 people. All seats in the Homestretch Club offer prime views of the homestretch, as well as the big board and the Winner's Circle.
Kentucky Derby Schedule
Kentucky Derby weekend is packed with fun activities and social events in addition to the racing. To help you get the most out of your Kentucky Derby experience, we've detailed some of the weekend's highlights below.
Thursday, May 2
Thurby, the official start of Derby weekend takes place at Churchill Downs. Featuring racing, live music, and, of course, bourbon, Thurby is not only a whole lot of fun, it's a great time to explore Churchill Downs while the crowds are typically smaller than they are on Friday and Saturday. Thurby runs from late morning to early evening.
Thursday evening offers a couple of great social events. The Mint Julep Sunset Social includes a memorable farm-to-table dinner at the picturesque Hermitage Farm, preceded by a tour of the gorgeous property. Another option is Taste of Derby, which allows guests to mingle with horse racing VIPs while enjoying incredible regional dishes prepared by nationally renowned chefs, with live music to cap off the evening.
Friday, May 3
Friday is a big day in Louisville. The day begins with the Kentucky Oaks, the premier horse race for 3-year-old fillies. The gates at Churchill Downs open mid-morning and there are races all day until early evening. The day is a celebration of racing, fundraising for women's health issues, and fashion. Speaking of which, the event includes a fashion contest if you're so inclined. The color of the day is pink, so be sure to include as much of it as possible when planning your outfit for the event.
In the evening, join celebrities and other VVIPs at the hottest party of the weekend: The Barnstable Brown Gala. This exclusive black-tie gala is the place to be seen on Derby eve. It's been dubbed as one of the top 10 parties in the world by Condé Nast and each year it attracts some of the biggest names in film, sport, and music.
Saturday, May 4
Saturday is the day all of this has been leading up to: the Kentucky Derby. Plan to spend a full day at Churchill Downs enjoying the racing and taking in the electric atmosphere. The racing begins mid-morning and keeps going until well into the evening. The main event usually takes place between 6:00 and 7:00 pm, with pre- and post-race ceremonies bookending the race itself.
Kentucky Derby Disclaimer
Roadtrips is in no way associated with the Kentucky Derby, the Kentucky Oaks, or Churchill Downs. The terms Kentucky Derby and Kentucky Oaks are used only for the purpose of properly describing certain events and without the specific permission of event organizers. Roadtrips' travel packages and services are not affiliated with the Kentucky Derby, Kentucky Oaks, or Churchill Downs.
Our Reputation

"Amazing time and great experience at the Kentucky Derby"

Just would like to thank you so much for your services and support to make everything as seamless as possible with continuous coordination and detailed updates prior to their trip package and making it exciting for my clients. The family had an amazing time and great experience at the Kentucky Derby last week! Everything planned in the package and the day of arrival with some assistance from your hospitality desk couldn't have been better. Thanks again.

Overall Rating /

100

Total 1st-Party Reviews

Roadtrips

Powered by GatherUp
Louisville Travel Guide
"I just love the tradition of picking out my hat to go with my Derby outfit! It's a great way to start the trip: settle into downtown Louisville and start shopping for the perfect, locally-designed hat or fascinator to get into the spirit of the Derby and join in on the pageantry." – Louisville Travel Guide Expert Lauren Lehotsky
Sign up to our newsletter
Subscribe to Roadtrips News, our free monthly email newsletter, to be the first to receive the latest sports travel information and special deals. You can withdraw your consent at any time. If you have any questions, please contact us or refer to our privacy policy.