2024 Super Bowl Packages
Allegiant Stadium, Las Vegas, NV: February 8-12, 2024
Custom VIP 2024 Super Bowl Packages
Our 2024 Super Bowl luxury packages are custom-crafted to make sure they are perfect for each of our guests. Our football specialists will work with you to create your ideal Super Bowl itinerary with luxury accommodations including the Wynn Las Vegas, admission to the NFL Fan Experience, your preferred tickets and hospitality in Allegiant Stadium, pre-travel assistance, and more. In addition, our onsite host team will make sure you are fully taken care of during your Super Bowl experience. Complete 2024 Super Bowl luxury travel packages are available from $13,195 per person, based on double occupancy.
About the 2024 Super Bowl in Las Vegas
The 2024 Super Bowl will mark the first time this event has been hosted by Las Vegas. Also known as Super Bowl LVIII, this highly-anticiapted game will be played in Allegiant Stadium on February 11, 2024. If there's one city that knows how to put on an incredible show, it's Las Vegas. Between the spectacle of the event and the plethora of things to see and do, Las Vegas is poised to deliver one of the most exciting Super Bowls to date. Super Bowl LVIII is going to be one spectacular celebration and the perfect sports travel experience whether you're traveling with colleagues, friends, or the family.
Click here for details on our travel packages to Super Bowl 2025.
Event at a Glance
Upcoming Super Bowl Lineup
The Ultimate Tailgate Party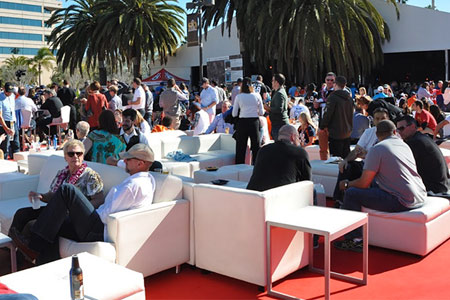 Join numerous past and current NFL players and celebrities for the ultimate tailgate party before the big game. Take tailgating to a whole new level at this upscale venue where you can take in a player Q&A session, get an autograph or snap a selfie with an NFL star, mingle with other VIP guests, and catch the pre-game coverage on giant LED TVs. You'll want to make sure you come hungry as the food may just be the highlight of the party. Prepared by a celebrity chef, you can indulge in an all-you-can-eat gourmet meal, accompanied by drinks from the open premium bar. Conveniently located just steps from Allegiant Stadium, there's no better way to start off Super Bowl Sunday.
2024 Super Bowl Travel Packages Include:
First class accommodations in your choice of hotel
Preferred tickets to the 2024 Super Bowl at Allegiant Stadium
Roadtrips onsite hosts
Admission to the NFL Fan Experience (Saturday)
Personalized itinerary
Expert Pre-Travel Assistance of the Roadtrips At-Your-Service team
All taxes & service charges
Additional options and possibilities:
VIP parties and events
Admission to VIP Tailgate Party on Game Day
Extra nights
Suites and room upgrades
Private event transfers
Private airport transfers including meet-and-greet service
Your VIP 2024 Super Bowl Tickets
Every year, Super Bowl tickets are some of the most sought after in sport. There's no doubt that this will once again be the case at the 2024 Super Bowl, which will play out at Las Vegas's Allegiant Stadium. Your customizable Super Bowl packages include your choice of tickets in this state-of-the-art venue.
Allegiant Stadium is considered to be one of the premier stadiums in the country. Home to the NFL's Raiders, this new venue is an architectural and technological marvel. The stadium boasts a number of unique features including a translucent roof, thousands of screens including an exterior 27,600 square-foot video board, and a fully retractable natural grass playing surface that can be moved to the exterior of the building to allow for maximum exposure to the nourishing sunshine. The facility contains 65,000 seats with capacity to add almost 7,000 more for major events. Super Bowl LVIII will mark the first time Allegiant Stadium has hosted this particular event.
Roadtrips offers a number of different Super Bowl ticket categories to allow you to create your ideal package. Tickets in the upper levels provide great value while still giving a great perspective of the entire field. The lower level tickets get you closer to the action with those along the sides providing superior sight lines. Club and premium seating offers some luxe extras that can include lounge-style seating, all-inclusive food and drink, and private entrances. For the ultimate experience, we'd be happy to arrange a luxury suite where you can enjoy the game in the utmost comfort and privacy.
2024 Super Bowl Tickets Standard Package Categories:
100 Level Side Club Premium
Sections: C111-C113 / C133-C135
100 Level Side Club
Sections: C109-C115 / C131-C137
100 Level Side
Sections: 107-108 / 116-117 / 129-130 / 138-139
100 Level Corner
Sections: 104-106 / 118-120 / 126-128 / 140-142
100 Level End
Sections: 101-103 / 121-125 / 143-144
200 Level Corner
Sections: 204-208 / 218-222 / 228-232 / 242-246
200 Level End
Sections: 201-203 / 223-227 / 247-248
300 Level Side Premium
Sections: 310-314 / 336-340
300 Level Side
Sections: 308-316 / 334-342
300 Level Corner
Sections: 303-307 / 317-321 / 329-333 / 343-347
300 Level End
Sections: 322-328
400 Level Side Premium
Sections: 410-414 / 436-440
400 Level Side
Sections: 408-416 / 434-442
400 Level Corner
Sections: 406-407 / 417-433 / 443-444
NFL Super Bowl LVIII Disclaimer
Roadtrips is in no way associated with the National Football League (NFL). The terms Super Bowl, Super Bowl LVIII, and NFL Fan Experience are used only for the purpose of properly describing certain events and without the specific permission of the NFL. Roadtrips' travel packages and services are not affiliated with the NFL. The official site for purchasing Super Bowl LVIII tickets is https://nflonlocation.com/superbowl-tickets/.
Our Reputation

"Personable and professional."

Our Superbowl 51 experience was great. Jeff the on-site host was there all the way and provided great service. Personable and professional.

Overall Rating /

100

Total 1st-Party Reviews

Roadtrips

Powered by GatherUp
Sign up to our newsletter
Subscribe to Roadtrips News, our free monthly email newsletter, to be the first to receive the latest sports travel information and special deals. You can withdraw your consent at any time. If you have any questions, please contact us or refer to our privacy policy.