Doha is ready to welcome visitors from around the globe at the 2022 World Cup. Over the last few years, we've made numerous visits to Doha to make sure things are absolutely perfect for our World Cup guests. In the time we've spent exploring this fascinating destination, we've discovered some surprising things about this World Cup host city. See below for some of our best surprises and interesting facts about Doha in advance of the upcoming World Cup.
It's Going to be Cool in Doha — Expect Comfortable Temperatures During the World Cup
It's a common misconception that Doha's temperature is extremely hot year-round. We won't argue that during the summer months, but Doha's winter is actually quite lovely. Most of the 2022 World Cup will take place in December, when the average temperature ranges from a minimum of 59°F (15°C) to 75°F (24°C), perfect for enjoying a match. In addition, many of the World Cup stadiums have cooling systems to keep both fans and players comfortable throughout the tournament.
Cocktails, Anyone? — Alcohol Policy
Alcohol is not part of the Qatari culture but that doesn't mean you won't be able to find a drink during your visit. Most international hotels are licensed to serve in their restaurants and bars. There's even a thriving nightlife scene in top hotels. Alcohol policies for the World Cup period are still being finalized but it is expected that some alcohol will be permitted "in select areas" within stadium complexes, as well as at the tournament's fan festival.
Attention Museum Buffs ­— Incredible Museums
When you think of Doha, museums may not be top of mind but perhaps they should be. Doha has some spectacular museums and we recommend checking them out if time allows during your World Cup visit. Two standouts are the Museum of Islamic Art and the National Museum of Qatar:
Doha's Museum of Islamic Art (MIA) was designed by I.M. Pei and has been called "one of the most beautiful museums in the world." The architecture alone is worth a visit and inside you'll find 1,400 years' worth of Islamic Art.
The National Museum of Qatar opened in 2019 and like the MIA, is visually stunning. This unique museum, designed by Jean Nouvel, provides an immersive journey into "Qatar's past, present, and future."
Expats, Expats, Expats Equals English Everywhere
As you travel around Doha, you may be surprised how easy it is to get around, even if you speak only English. Though it is not an official language, English is widely spoken in Doha, and also found on signs throughout the city.
A Culture of Hospitality — Five-Star Luxury Hotels
We love amazing hotels and fortunately Doha does not disappoint. While the city does have some incredible options, the city's true luxury accommodations are limited, particularly for an event the size of the World Cup.
One of our favorites is the St. Regis Doha, perched on the spectacular coastline of the Arabian Gulf. Offering a luxe resort-style experience without sacrificing the convenience of the city, the St. Regis is one of the most in-demand properties for the World Cup. The accommodations are elegant, the amenity list is long, and its restaurants are extraordinary. We also recommend taking advantage of the St. Regis' sublime Remède Spa.
Bikinis at the Beach (ONLY!) — Clothing Expectations for Visitors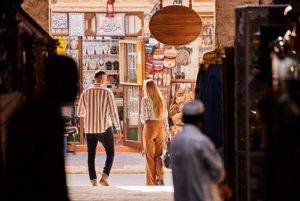 Another part of the Qatari culture is their clothing. Both men and women traditionally dress in a conservative fashion. For women this means an abaya that covers their body and shayla or hijab that covers their hair. For men, a thobe, a long white shirt over loose pants, is the norm, along with a ghutra or gahfeya on their head.
Visitors are not expected to dress in the same manner as the locals. So yes, you can pack your favorite swimsuit. Beachwear is acceptable at hotel pools or private beaches. Elsewhere, it is recommended that travelers are sensitive to the culture by wearing clothing covering the shoulders, knees, and everything in between.
Chefs from London, Las Vegas, New York — An Impressive Culinary Scene
During our many visits to Doha in preparation for the 2022 World Cup, one of our greatest pleasures has been indulging in the city's incredible restaurants. With everything from savory street food to Michelin starred dining, Doha has something for every palate. Doha's top eateries boast big names like Gaston Acurio, Richard Sandoval, and Alain Ducasse. We've had fun trying out as many as we can and go into detail about a few of our favorites in our top restaurants for the 2022 World Cup post.
A Shopper's Paradise — The Variety of Shopping Options
Those who love to shop will be in paradise in Doha! There are so many options, ranging from local specialty markets to upscale mega-malls. Some highlights include:
Souq Waqif – Doha's largest market is the perfect place to find almost everything including traditional clothing, food, art, and souvenirs.
City Center Mall – One of the city's largest malls, complete with an amusement park, ice-skating rink, and bowling alley.
Villaggio Mall – Designed after Venice with an indoor canal and gondolas.
Mall of Qatar – The largest mall in the country.
The Pearl – A man-made island brimming with everything luxury including designer boutiques, high-end malls, and luxury car showrooms.
Torba Farmer's Market – Familiar, yet exotic, it's a fun place to wander around.
We go into depth about shopping in Doha in our Doha Travel Guide; check it out for more information and shopping tips.
Welcome to Qatar — Welcoming and Friendly Locals
It's not exactly surprising but we have been particularly impressed with just how friendly and welcoming the locals are. With each visit, we are consistently treated to wonderful service wherever we go. From the hotels to restaurants to shops and everywhere in between, Doha locals have welcomed us warmly. We also love seeing the excitement around the city as it prepares to host soccer's premier event.
Safety First — Very Safe Destination
We think our guests will feel very comfortable traveling around Doha. As we mentioned above, the locals are warm and welcoming and crime is rare. In fact, Doha was recently named the second safest city in the world. Our lead event planner, Sam Buffie, has traveled to Doha multiple times on her own and has felt "completely safe and welcomed" on each visit.
Doha is full of wonderful surprises and we're excited for our World Cup guests to discover some of their own. To learn more about Doha in advance of the World Cup, download our Doha Travel Guide for our best tips and recommendations.
If you want to see Doha for yourself, we still have limited space available for the 2022 World Cup. Get in touch with one of our Sports Travel Specialists for more information.