If you've traveled with us before (or if you've read our previous blog posts), you'll know we have some big foodies on our team. So it will come as no surprise that Monaco is one of our favorite places to visit. In a destination known for the finer things, the food certainly fits the theme.
There are plenty of exceptional restaurants, from casual dining to multi-Michelin starred establishments. While you can explore a multitude of different cuisines, Monaco's gastronomy highlights are Monégasque, Italian, Mediterranean and French influenced.
If you're thinking of heading to Monaco, you'll want to do some planning ahead in order to take advantage of the incredible dining possibilities. We've had fun doing some of the research for you. Take a look below at our favorite eateries for some inspiration and be sure to reserve a table in advance to avoid disappointment.
Chèvre d'Or
There are plenty of breathtaking views along the Mediterranean but some of the best are from the Chèvre d'Or in Eze, just down the coast from Monaco. With two Michelin stars, executive chef Arnaud Faye serves up divine food accompanied by an extensive wine list to complement the view. This is one that we love going back to over and over.
Les Perles de Monte Carlo
It actually started as an oyster farm for the grand restaurants of Monaco, and now includes a casual little eatery with amazing seafood. It is literally built into the end of the pier in Fontvieille and is still a working seafood farm so the inside of the building is just that with a small eating terrace outside. With less than 40 seats and limited hours, you need to plan your meals accordingly, but if you like the freshest seafood, done in the style of Brittany, you may not find a treasure like this anywhere else.
Maya Bay Thai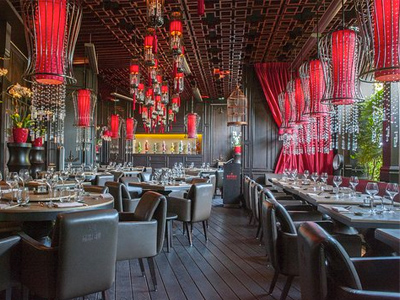 The food here is as blissful as the Thai Beach it's named after. Enjoy traditional Thai dishes alongside more contemporary versions fused with European elements. Don't forget to leave some room for the extensive dessert selection.
Yoshi
Our guests who stay at the Hotel Metropole are lucky to have this gem in the building. Chef Takeo Yamazaki is at the helm and, along with his team, delivers an outstanding dining experience. Michelin-star-awarded since 2010, Yoshi serves up some of the very best Japanese cuisine in Monte Carlo. Everything here is excellent: the food, the service, the wine list, and the stunning design. Highly recommended.
Il Terrazzino
Il Terrazzino is a long-standing local institution with great straight up Italian. It may not be fancy but it's cozy and welcoming and the food is fantastic. This casual restaurant is not only one of our favorites, it's also a favorite of many of the F1 pilots who live in Monaco.
Le Mas de Pierre
Not too far away from Monaco, you'll find the sublime Le Mas de Pierre just outside of Saint Paul de Vence. The setting and the food is wonderful, we promise it's worth the trip. We also recommend a two-night stay post race if time and relaxation allow.
Marché de la Condamine
While Monaco is deservedly known for offering some of the best dining from culinary heavyweights like Ducasse and Robuchon, if you want a different food experience, albeit at the other end of the spectrum, spend some time at the Marché de la Condamine, which is just off the Place d'Armes. This market has existed since the late 1800s and is very popular with the locals, making it a great opportunity for you to hear a little of the Monégasque language. It's also a great place to sample some Barbajuan, socca, or pissaladières. Add to that some wonderful pizzas, fresh fruits and vegetables, pasta and pastry, and a cool drink and it's easy to while away a wonderful afternoon among the locals.
In addition to its incredible eateries, Monaco has so much more to explore. To find out our favorite things to see and do in Monaco during the Monaco Grand Prix, check out our Monaco Travel Guide.