Qatar is thriving and growing at an exponential rate and is sure to make an excellent host for the 2022 World Cup. This picturesque country has planned an ideal setup for the tournament. With all the stadiums clustered within a small radius, it allows guests to maximize their time in Qatar, whether it be taking in matches or exploring the beauty of this world-class destination.
Qatar Travel Tips
Wondering what to expect during your visit to Qatar for the World Cup? Our staff has made multiple visits to Qatar in preparation for the event, each time discovering more about the country. Below we've detailed what we've learned about Qatar and its culture to help you plan your trip and enjoy your visit.
All About Qatar
Qatar is a fascinating destination and the 2022 World Cup is the perfect reason to travel to this dynamic, thriving country. Qatar, and specifically its capital Doha, offers a wonderful blend of stunning, ultramodern high rises and 100-year-old cultural heritage sites, an enchanting mix of old and new. Plus, there are so many memorable experiences for visitors within a few hours' drive of the capital. You can read about some of our top recommendations in our blog "Things to See and Do in Doha During the 2022 World Cup."
During your Visit
We think our guests will immediately feel comfortable in Qatar. The people are friendly and welcoming. Crime is incredibly rare, and in fact, Doha was recently named one of the safest cities in the world. English is widely spoken, largely due Doha's sizable expat population. Much of the signage around the city is in English, which makes getting around and communicating a breeze compared to other foreign countries.
Dining in Qatar
One of our favorite things about Qatar is the food. Doha has some wonderful world-class eateries including big names like Hakkasan, Nobu and Morimoto. The list of notable restaurants is long and we've enjoyed trying out as many as we can. So much so that we wrote a whole blog about it here.
Alcohol
Those wondering about Qatar's alcohol policy and whether they'll be able to enjoy a glass of wine with dinner will be happy to know the answer is yes. In fact, there are many famous bars and restaurants — primarily in hotels — that serve the same handcrafted cocktails you'd find in other global travel hot spots.
Tipping
While tipping is not a traditional practice in Qatar, it has become more common due to the large expat population. Often a service charge will be included on your bill when dining out. If not, a tip at your discretion is usually appreciated.
Accommodations
We are very particular about hotels and fortunately Qatar has some wonderful options from intimate boutique-style properties to five-star beach resorts. Our World Cup guests have access to some of the best hotels in the country including the St. Regis Doha.
Getting Around Qatar for the World Cup
Doha is in the process of completing a state-of-the-art rapid transit system (Doha Metro) that is being lauded as one of the most advanced rail transportation systems in the world. Complete with first-class sections (called Gold Club), Doha Metro's modern trains can transport passengers up to 100km/h, bypassing bad traffic. With a system designed specifically for the tournament, the Doha Metro will be the most efficient way to traverse the city and access the stadiums during the 2022 World Cup.
Weather in Qatar
World Cup organizers have meticulously planned the event to ensure that players and spectators can enjoy comfortable weather during the tournament. The 2022 World Cup was moved from its traditional summer dates to Qatar's winter in order to take advantage of the more enjoyable temperatures. The 2022 World Cup will take place from November 21 to December 18, when temperatures average 68-86 degrees Fahrenheit (20-30°C). In addition, all the World Cup host stadiums have been constructed with cooling systems.
Clothing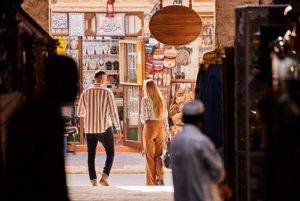 Qatar is a conservative country and you'll find many of the locals dressed in traditional clothing. While visitors are not expected to dress in the same manner, it is recommended to be sensitive to their culture by dressing modestly. This includes keeping shoulders, upper arms and knees covered. Swimwear is acceptable on the beach or by the pool.
Qatar is a warm and unique place, and quickly growing as a tourist destination. We're confident that our guests will love exploring Qatar as much as we have. We look forward to sharing all of our favorite things about this wonderful country as it acts as host to the biggest soccer tournament in the world.
To find out more about Qatar including travel tips and our recommendations, download our Doha Travel Guide. If you'd like to start planning a trip to the 2022 World Cup, submit a Custom Trip Quote request