The Monaco Grand Prix is one of the most iconic and sought-after experiences in all of sport and its appeal extends far beyond the race itself. Monaco has long been a favorite destination of travelers in search of luxury and glamour. Its luxury hotels are among the finest in the world and we've hand-picked some of the best for our Monaco Grand Prix guests. We've been traveling to Monaco for many years and would love to help you find the perfect accommodations fit during the biggest event of the year. To help you get started, we've detailed some of our favorite Monaco properties below.
In this principality that is known for the finer things, the accommodations are no exception. The hotels here are some of the most luxurious anywhere. Those who travel with us to the Monaco Grand Prix will have access to some of the best properties in the region. Our hotels are carefully chosen not only for their quality, but also for their prime location and impressive amenities.
One of the things that is great about our curated selection of properties is that our guests can choose their preferred hotel experience. From the formal and elegant Hotel Hermitage to the younger and more relaxed Le Meridien Beach Plaza, we feel it's important to pick the location and type of accommodations that best fits your mood and style. Part of the decision is whether to stay at Casino Square, which during the Grand Prix is really quite busy, or to choose a little more space closer to Larvotto Beach.
For those that like to start the day with a walk or run, or want to stay a little outside the bottleneck that is Casino Square, our recommendation would be either the Le Meridien Beach Plaza or the Monte Carlo Bay Hotel.
LE MERIDIEN BEACH PLAZA
Boasting an exclusive private beach, this modern resort hotel is a very nice hotel and a great value during the Grand Prix. Le Meridien has great views to the Mediterranean, is contemporary in design, relaxed and chic in its vibe, and it's outside of the crush of Casino Square, perfect for an early morning run or a walk on the beach followed by a frothy cappuccino. The food options are good, but not great, though you have lots of great options within a few minutes walk of the hotel. The gym, indoor and outdoor pools, and beach are second to none in Monaco. The rooms are well designed and spacious by European standards. Beds are comfortable and the Malin & Goetz bathroom amenities are a nice touch.
MONTE CARLO BAY HOTEL
This luxury hotel was built on reclaimed land and was a welcome addition to the hotel scene in Monaco. Essentially next door to the Le Meridien, this property also allows you a bit of breathing room during the Grand Prix. This lavishly designed hotel has a Vegas meets French Riviera feel with expensive gardens, a grand entrance, and extensive views of the sea. The swimming pool complex is happening and includes a sand bottomed pool, a giant glass panelled conservatory and a well equipped fitness facility with a plush spa and yoga classes. The rooms are spacious with bathrooms that boast separate shower and bath, with amenities from the hotel's Cinq Mondes Spa. With an in-house Michelin starred restaurant, Blue Bay, you know they are committed to providing guests with culinary delights. A lagoon-facing terrace at L'Hippocampe and the comfortable Blue Gin Bar both make for a relaxing on-property snack or cocktail.
HOTEL HERMITAGE
One of the grande dames of the hotel scene in Monaco is the elegant Hotel Hermitage. This Belle Epoque palace is tucked away behind the Hotel de Paris and is a favorite of those pretending to fly under the radar. This opulent 19th century palace has all the gold leaf and marble topped commodes you would expect, given the line of Lamborghinis and Bentleys "discreetly" parked out front. Service is courteous and competent, with female staff adorned with silk scarves and waistcoated bellboys. Guests can charge any Monte Carlo SBM facilities to their room including one of the most impressive thermal spas in Europe. Rooms feature Louis XV style furniture and wallpaper, bathrooms contain plenty of marble, and products are by the legendary Parisian perfume maker Francis Kurkdjian. The Michelin starred Vistamar may be "the" place for seafood in Monaco, though any of the hotel's eateries come with plenty of prestige wines and vintage champagne, making sure you don't forget you are staying in a palace.
HOTEL METROPOLE
The Metropole manages to seamlessly bridge a number of themes and styles, making it the choice for rockstars and royalty alike. Behind the monumental Belle Epoque facade, this hotel perfectly delivers both classic elegance and a relaxed modern vibe. The bar and lounge are a 21st century take on a 19th century drawing room. There are books and tapestries bathed in light and space. Just up from the casino and off the Boulingrins Gardens, it could not be more central. And then there is the name dropping; from the Michelin-starred cuisine at Christophe Cussac's Yoshi to Karl Lagerfeld's creation, Odyssey, a pool and restaurant oasis available only to hotel and spa guests, this hotel has cachet to spare. The rooms combine period furniture, flowing fabrics, art and artifacts with contemporary sensitivity and comfort. You will feel like a royal noble, except that these rooms are too well thought out for that. They may be pricey, but live a weekend in them and you will swear it is completely worth it.
And, for a hidden gem and completely other experience…
CAP ESTEL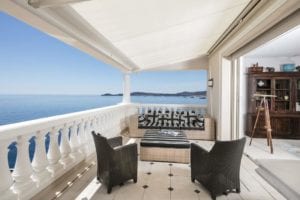 Set on a tiny peninsula just outside the borders of Monaco, this small, luxurious gated mansion is the perfect A-list hideaway. Only minutes from the glitz and excitement of the Grand Prix, it offers its guests the very best of discreet service and luxe surroundings. With only 28 rooms and suites across three buildings, each with expansive views of the sea, this lush property combines elegant design and decor with the latest in technology. Add the Michelin starred creations of chef Patrick Raingeard and you truly have the ultimate in discreet luxury and exceptional service.
For more information on how to make the most of your time in Monaco for the Monaco Grand Prix, download our Monaco Travel Guide.