Our favorite way to kick off the summer is in London for the Wimbledon Championships. This renowned event is the most famous tennis tournament in the world and for good reason. There's no arguing the tennis is first-class, but the host city is pretty special too. London is the perfect international destination for us anglophones. It's exotic but not intimidating and it's brimming with incredible attractions, fantastic eateries, world-famous shopping, and charming neighborhoods to discover. We've spent plenty of time in London and wanted to share our favorite ways to experience this fascinating city.
Seeing all the big attractions is one way to tour the city, but we've discovered so many other ways to enjoy London. From simple ways to spend a few hours to quintessential British experiences, these are some of our favorite things to do when we're in London.
See a West End Show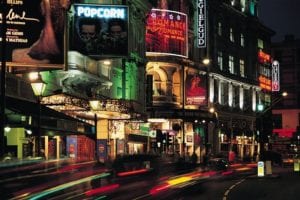 Right up there with Broadway in terms of prestige, the West End theatres feature some of the hottest shows in the world. There are few better ways to spend a London evening than a great dinner and a West End Show. Our personal concierges can help with suggestions, dinner reservations, and show tickets.
Afternoon Tea
Is there anything more quintessentially British than afternoon tea? We think not. Whether you're a tea drinker or not, it really is quite an experience. Our favorite spot for this wonderful tradition is at the Palm Court in the iconic Ritz London.
Sunday Roast at a Local Pub
The Sunday roast is one of England's most beloved traditions. You'll find many different versions ranging from very casual at the neighborhood pub to trendy upscale gastropub offerings. Whichever route you choose, it's likely to be one of your most memorable meals.
Explore a New Neighborhood
If you're feeling adventurous, hop on the tube (an experience in itself) and head to one of London's many interesting neighborhoods to do some exploring. Each neighborhood seems to have its own personality and you're likely to discover new restaurants, shops, and gardens. Outside of London's core which includes Mayfair, Westminster, the West End and Knightsbridge, some other sure bets include Chelsea, Richmond, Kensington and Bloomsbury. There are endless choices for exploring London's unique neighborhoods.
Check out the Culture
There's an endless list of museums and art galleries in London, many of which don't charge an admission fee. The well-known National Gallery, Tate Britain, British Museum and National Portrait Gallery are amongst the most popular and frequently visited. In South Kensington, spend a drizzly day exploring the Natural History Museum, the Victoria & Albert Museum and the Science Museum; they form an excellent collection within walking distance of each other. The Wallace Collection, Saatchi Gallery and Dulwich Picture Gallery are smaller, more hidden away gems.
You can find more of our recommendations for London, along with travel tips by downloading our London Travel Guide.