While Augusta may not be known for its culinary scene, it certainly has its share of exceptional restaurants. Over the last decade, we've seen a number of inventive and sophisticated eateries popping up around the city, joining some beloved Augusta classics. The result is a variety of memorable dining experiences for visitors to take advantage of.
We understand how much great meals can add to a travel experience. Discovering remarkable food is one of our favorite things about traveling and we've spent plenty of time scouting out some great options for our Masters guests.
After many visits to Augusta and years of delicious research, we've listed some of our top Augusta restaurant recommendations below. The diverse list includes options to please virtually any palate. If you're traveling to the Masters with us, your pre-travel personal concierge would be happy to help out with some custom recommendations based on your tastes.
Downtown
Frog Hollow Tavern
706.364.6906
www.froghollowtavern.com
Simply put, it's one of the best in the city. They just seem to do everything right. The
focus on service is as important as the quality of the food, creating an ideal farm-to-table dining experience. The menu changes seasonally so it's a new experience every year. There's an impressive wine list too if you're so inclined. This is the place to go in Augusta, you'll need to make reservations well in advance.
Farmhaus Burger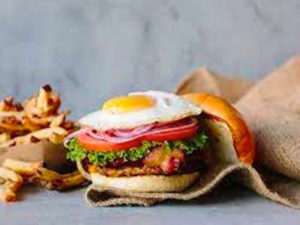 706.496.8771
www.farmhausburger.com
This isn't your average burger. A sister restaurant to Frog Hollow Tavern, Farmhaus serves up gourmet burgers made from locally-sourced ingredients. Agonize over which delicious option to choose from or create your own. Whatever you decide on, we recommend pairing it with the housemade sweet potato tots. Fun, casual, and they even have gluten free options. There is a second location in Flowing Wells.
Craft & Vine
706.496.8442
craftandvine.com
The third member of the Frog Hollow Tavern family is Craft & Vine. This downtown cocktail bar serves up flavorful small plates and wood-fired pizzas. Open late, it's a great place for a nightcap; sip on a handcrafted cocktail or a great glass of wine while
reminiscing about a great day of golf.
The Boll Weevil Café
706.722.7772
www.thebollweevil.com
Ask anyone in Augusta where to go for dessert and you'll likely be directed to the Boll Weevil. Yes, they offer lunch and dinner as well but the long list of sweet treats are the highlight. We'd recommend our favorite dessert but it's impossible to pick just one. Its proximity to the Riverwalk makes it a nice spot for a refreshment if you're in the area.
Surrey Center
Calvert's
706.738.4514
calvertsrestaurant.net
Calvert's is the reigning fine dining choice in Augusta. A long time favorite of both our
clients and our staff, it's the best place in town for steak and seafood. The service is
impeccable, the food is superb, and the wine list is the best in the city. Calvert's is an
Augusta landmark; you'll need to make reservations well ahead for this one, particularly
for Masters week.
Finch & Fifth
706.364.5300
www.finchandfifth.com
Augusta has been blessed with a number of creative new restaurants in the last decade
and Finch & Fifth is one of them. The dishes are mostly modern takes on Southern
classics and there's also a charcuterie and cheese menu. Good food and drink, friendly,
unpretentious.
Abel Brown Southern Kitchen & Oyster Bar
706.738.6491
www.abelbrownaugusta.com
Chef Todd Schafer has been a staple on the Augusta restaurant scene for many years
and Abel Brown is his latest venture. The oysters are excellent but so is everything else
we've tried. We think it's well-deserving of the phenomenal reviews it's received over
the years.
Oliviana
706-723-1242
www.olivianaitaliano.com
This great eatery boasts some of our favorite pizza in Augusta. If you're not in the mood
for pizza, Oliviana's Italian menu is extensive and you're sure to find something that will
make your mouth water. Small and intimate, Oliviana's atmosphere is as enjoyable as
the food. They're open for lunch, dinner and Sunday brunch.
Village West
Edgar's Grille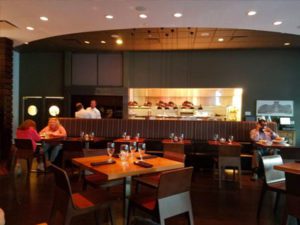 706-854-4700
www.edgarsgrille.com
Edgar's serves up New American cuisine with a southern flair and their farm-to-table
dishes are wonderful. Whatever dish piques your interest, be sure to complement it
with a side of truffle fries. Edgar's Grille is one of our favorites and it's more than just
a restaurant. It's also a training center for culinary students at Helms College. The
restaurant gives back a portion of their profits toward local education programs, in case
you needed another great reason to eat here.
Cork & Flame
706-922-9463
www.corkandflame.com
Cork & Flame combines fine dining, small bites, and one of the largest wine
selections in the area with close to 3,000 labels. The dining room offers self-described
"Progressive American Cuisine," which can be enjoyed a la carte, as part of a fourcourse tasting menu, or as the eight-course chef's table experience. The Cork & Flame
also has a fairly extensive vegetarian menu, making it a great option for plant-based
eaters.
As you'd expect, Masters week is a busy week for restaurants in Augusta and we recommend making reservations well in advance (think months, not weeks) to avoid missing out. It's important to note that many restaurants have strict reservation policies for this particular week. Augusta has some amazing restaurants and we hope you'll enjoy trying them out as much as we have.
Interested in attending the iconic Masters tournament? Contact one of our Sports Travel Specialists to start planning an amazing sports travel experience. For more information about Augusta and our top Masters Travel Tips, check out our Augusta Travel Guide.