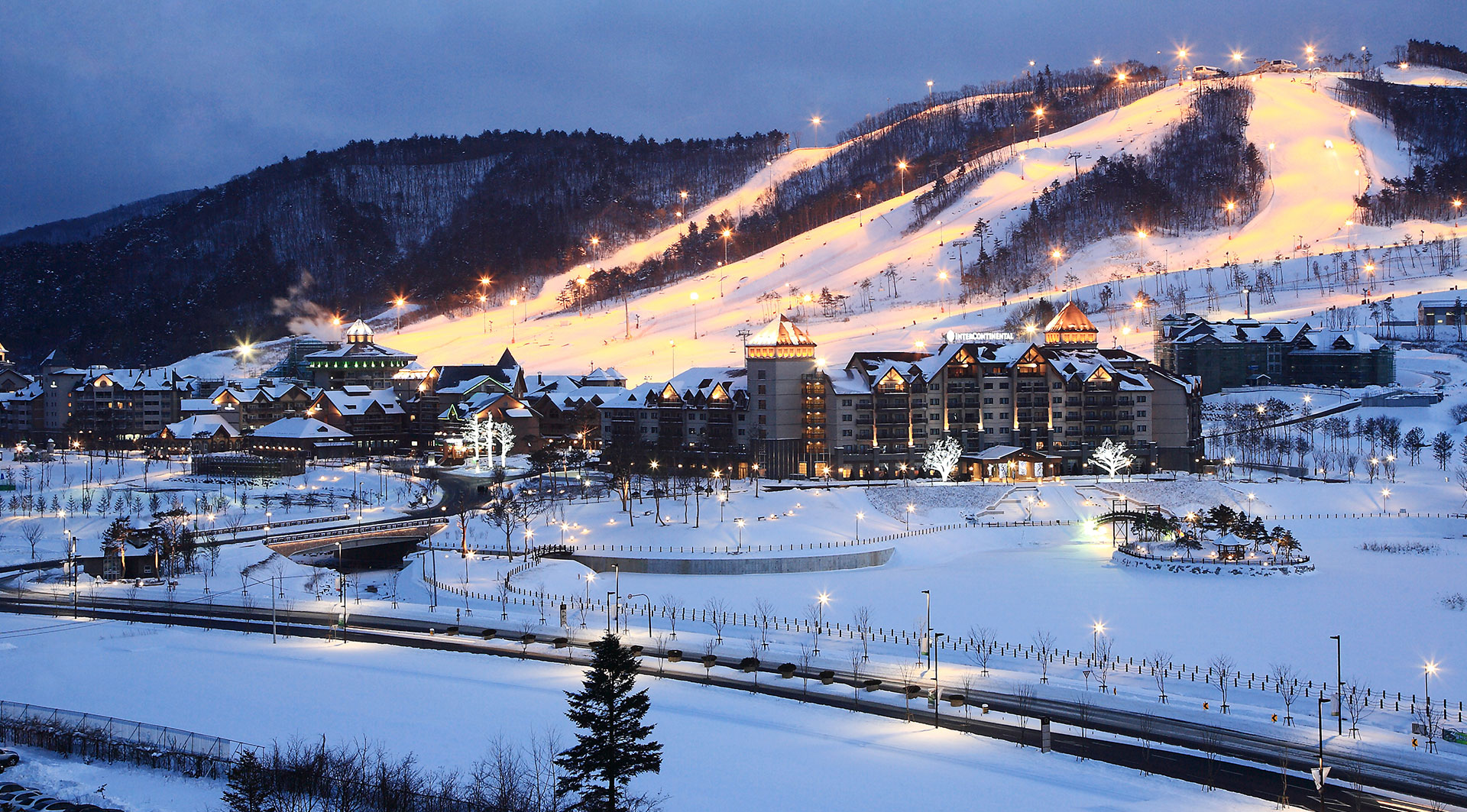 Venues
PyeongChang, South Korea: February 9 - 25, 2018
2018 Winter Games Venues
Beautiful PyeongChang, South Korea rests in the Taebaek Mountains in the eastern part of the country. Just over an hour from Seoul via high-speed train, PyeongChang is known for its natural beauty and is a popular destination for hikers, skiers, snowboarders, and other winter sports enthusiasts. These games will see 15 sport disciplines taking place in a total of 13 event venues, which are divided into two clusters:
PyeongChang Alpensia Cluster
The PyeongChang Alpensia Cluster will be home to the Olympic Stadium, most of the snow sports, and some stunning mountain views at the 2018 Winter Games.
PyeongChang Alpensia Cluster
Venue
Sports
Alpensia Biathlon Centre
Biathlon
Alpensia Ski Jumping Centre
Ski Jumping, Nordic Combined
Alpensia Cross-Country Skiing Centre
Cross Country Skiing, Nordic Combined
Alpensia Sliding Centre
Bobsleigh, Skeleton, Luge
Yongpyong Alpine Centre
Alpine Skiing
Jeongseon Alpine Centre
Alpine Skiing
Phoenix Snow Park
Snowboard, Freestyle Skiing
Pyeongchang Olympic Stadium
Opening and Closing Ceremonies
Gangneung Coastal Cluster
With a stunning location between the East Sea and the Taebaek Mountains, the Gangneung Coastal Cluster will host the ice sports at the 2018 Winter Games.
Gangneung Coastal Cluster
Venue
Sports
Gangneung Curling Centre
Curling
Gangneung Oval
Speed Skating
Gangneung Ice Arena
Short Track Speed Skating, Figure Skating
Kwangdong Hockey Centre
Hockey
Gangneung Hockey Centre
Hockey
Our Reputation

"Roadtrips handled all aspects of our trip very efficiently."

Roadtrips handled all aspects of our trip very efficiently. There were no real surprises and everything was as advertised. I really appreciate that Roadtrips monitored our delays arriving in Vancouver and had a plan in place to help us make the first Canada/USA Mens Hockey game. Your special attention to our travel problems allowed us to see a majority of the game, otherwise we may have missed the entire game without your help!
Sign up to our newsletter
Subscribe to Roadtrips News, our free monthly email newsletter, to be the first to receive the latest sports travel information, expert advice and tips, and special offers.

Winter Games Ticketing Notice
Roadtrips is no way affiliated or associated with the IOC, the PyeongChang Organizing Committee for the 2018 Olympic Winter Games, Jet Set Sports or CoSport. The PyeongChang 2018 Winter Olympic Games official site is www.pyeongchang2018.com. When available, tickets can be ordered separately, direct from PyeongChang 2018 website. Roadtrips base packages do not include tickets.