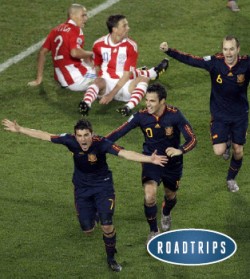 The World Cup tournament, held by FIFA, is the "world's most widely viewed sporting event". Every four years, 32 national teams compete in 64 matches to win the claim of the best soccer team in the world. The 2018 World Cup will take place in Russia from June 14 to July 15, 2018.
World Cup Facts
Here are 18 little-known World Cup facts to get you into the soccer spirit for the 2018 World Cup in Russia:
It's hard to believe that the 2018 World Cup is less than a year away already. It doesn't seem like very long ago that we spent an incredible summer in Brazil, enjoying the amazing atmosphere and the outstanding soccer at the 2014 World Cup. It's no secret that this event is one of our favorites and we're already fielding lots of interest in the 2018 tournament.
Want to join us next summer in Russia for this iconic event? We have some amazing luxury 2018 World Cup packages with the best 2018 World Cup hotels in the country including the Ritz-Carlton Moscow Red Square and the Four Seasons Lion Palace in St. Petersburg. We'd love to be your host as you experience the excitement for yourself!