Tickets
Final Four: San Antonio, TX: March 30 - April 3, 2018
Your Seats in the Alamodome
The Alamodome will celebrate its 25th anniversary by playing host to one of the country's most popular sporting events in 2018, the NCAA Final Four. The beloved stadium, which has hosted the event 3 times previously, will undergo extensive renovations in 2017 including expanding the concourses, upgrading the interior technology (including the video and ribbon boards), and increasing the seating capacity to 72,000. Located in San Antonio's downtown core close to hotels, restaurants, shopping, and the city's famous Riverwalk, the Alamodome will make the perfect host for this marquis event.
Standard Package Seating Categories
Upper Level End / Corner
301-309 / 316-333 / 340-348
Upper Level Side
310-315 / 334-339

Lower Level End / Corner
101-109 / 115-131 / 137-144
Lower Level Side
110-114 / 132-136
Premium Lower Level Side
112 / 134
Lower Level Side Risers
110-114 / 132-136
Premium Lower Level Side Risers
112 / 134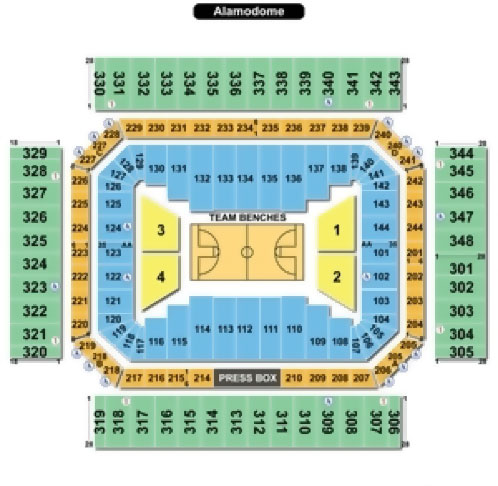 Our Reputation

"It was one of the best weekends."

We travelled with you to the final four and I just wanted to tell you what a wonderful time we had. We were thrilled with the hotel and the restaurant you recommended was wonderful. It was one of the best weekends we have ever had. I just wanted to thank you for all the effort you put into arranging everything for us.
Sign up to our newsletter
Subscribe to Roadtrips News, our free monthly email newsletter, to be the first to receive the latest sports travel information, expert advice and tips, and special offers.